About us...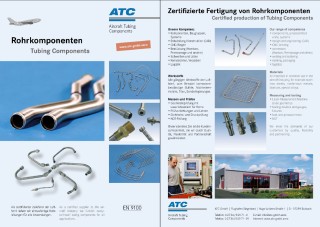 ATC GmbH is a manufacturing company for all kind of complex formed tubular assemblies
and components for aerospace and commercial aviation.
The product range varies from simply bended parts and swaged fluid-lines ready-for-built-in to complex welded systems.
Processes for completion are in-house or with reliable and experienced subcontractors.
Since starting at Siegerland-Airport, our team increased up to now 15 members. Production-area is now about 1000 sqm with greenfield of an additional 3000 sqm for expanding growth.
We support your needs from the very first beginning with our ideas and know-how.
Our vision is
Quality
Flexibility
Partnership
Our products can be found in systems for
Air
Hydraulic
Water
Waste
Climate
others...