PRODUCTS
Bended tubes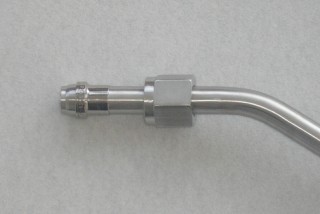 Often, tubing in aircraft is very complex in design because of limitations in space and weight. Special tooling is required and advanced understanding of bending and material behaviour is essential to manufacture these parts.
Our bending capabilities with modern CNC-Benders range from 1/8" to 3"
(with our partners to 5") in single-bends and complex geometry parts. All kind of thin wall tubing is processed.
Hardware installation of
Standard flanges ABS, NAS, NSA, AN
Beading MS, AS
Flaring
Built-to-print hardware
as well as
Elastomer swaging sleeves stainless and aluminum Harrison/Sierracin
Roller swaging Titan-sleeves Harrison/Sierracin
Permaswage fittings
Perma-Lite fittings (Oxygen, AIPS)
Hydraflow (vacuum, waste)
to complete the component for a ready-to-built-in component.

Our tubular components are in aircraft be found in
| | | |
| --- | --- | --- |
| ATA 21 | | Airconditioning |
| ATA 25 | | equipment / furnishing |
| ATA 26 | | fire protection |
| ATA 28 | | fuel |
| ATA 29 | | hydraulic power |
| ATA 35 | | Oxygen |
| ATA 36 | | Pneumatic |
| ATA 37 and 38 | | vacuum / Water / Waste |
| additional... | | |